What is your background?
I grew up experimenting with the miraculous device, and learning to experience the world through its lens. By trying and experimenting, I gradually developed an artistic vision of the world.
My family always encouraged me to take my own path. I studied Advertising and Light Photography at the faculty of Applied Arts, Helwan University in Cairo. After the university, I started working on my style and skills.
What kind of photography do you most identify with?
I mostly take pictures of people, architecture, and interior, sometimes I take pictures of animals and fashion.
Explain your style in 100 words
Dramatic light, intense colors, diverse palettes, which became my signature style through years.
When did you discover your passion for photography?
I discovered it at the very early age. My father used to take photos and I learned from him. I used to take photos from time to time
What jobs have you done other than being a photographer?
I worked as an art teacher in a primary school for 6 months after I graduated, I did some graphic design and art direction.
Name 5 photographers who have inspired you
Ansel Adams, Henri Cartier Bresson, Mark Seliger, Tim Walker, and F.C.. Gundlach
What would you do without photography?
I would maybe be an illustrator or a painter
How do you know when a body of work is finished?
When I look at the body of work and have the feeling of satisfaction that I've done my best and there is nothing more I could add – that is when I know that a project is finished.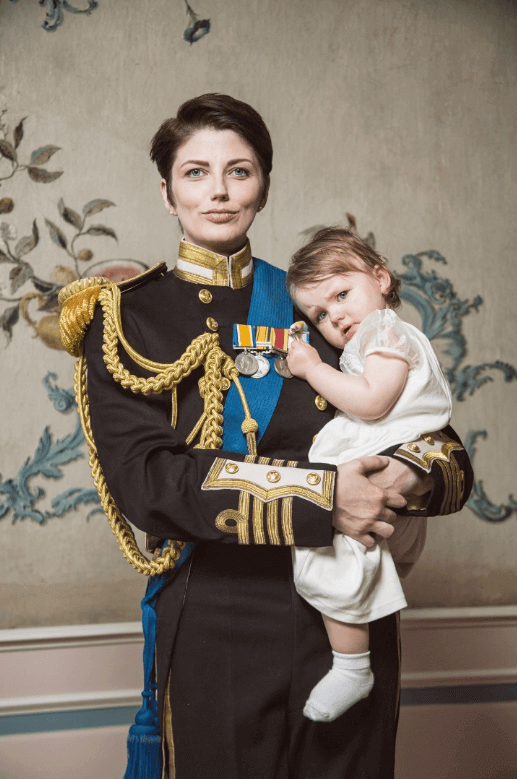 British navy captain with a child
Is there one photograph of yours that you are very proud of? Why?
I'm very proud of some of my two specific projects. One of them is Eve's Glory: women wearing authentic historic uniforms and imitating the style of the early paintings. And Stereotypes – it's a project where I photographed men with women's hairstyles. Both projects have unique stories and execution.
What is your most important gadget? Is there something you can't live without in your studio?
I don't usually work at a studio. My most important gadgets are the wide angle lenses and the portrait lenses.
What was your first camera?
My first camera was a 110 mm Kodak camera, I won this camera at the age of 9
What camera do you use now and why?
I use several cameras like Hasselblad H3d II, 5D MKIII and a Sony A7R II. I think each one of this camera has its advantage over the other one, so depending on my project I choose which one of these cameras.
What role does the photographer have in society?
Photography is the modern medium of expression, Photography could be art and could be an important piece of information. The variety that photography offers attracts more enthusiasts.
You can find out more about Tamboly's work here.