What is your background?
Self-taught Dutch photographer (1967), introduced to photography at a very young age. Ever since I can remember I've had a camera in my hand. Best known as a canine photographer, I've worked in the business for almost 30 years. I was privileged to have photographed some of dogdom's finest. My work has been published in canine magazines and books all over the world.
What kind of photography do you most identify with?
At the moment this has to be Fine Art photography or Furbex as I call it (Urbex photography with a furry twist). Next to that Wildlife, Travel and Landscape Photography.
Explain your style in 100 words
Entering the world of the unknown, a world of darkness and shadows, peeled off paint and rotting wood. The air is thick with the smell of mildew and mold. Needless to say that light conditions are far from ideal, I'm fascinated by shadows and light that's why I only make use of existing light. Claire's modeling skills are superb, she has learned to sit absolutely still as shutter speeds of ¼, ½ or even a second are no acceptation. I'm trying to create a style that captures this mysterious dark world. A dark world with a furry twist.
How did your style change over time?
Quite a bit I would say. From a dog photographer who never used a tripod, who had the camera either on aperture or shutter speed pre-set and autofocus, who photographed the dogs always outdoors with a telezoom lens and using fill-in flash if necessary – to a fine art photographer who uses abandoned buildings as a photo studio making use of existing light, wide angle lenses and manual settings only. The camera is always mounted on a tripod. As a dog photographer, I made photographs bright and vivid in color, trying to avoid disturbing shadows. The photographs I make now are darker, less colorful with preferably an interesting play of light and shadow in it. I often try to throw a little humor in.
I learned more the last couple of years than in all the previous years before I started exploring and photographing abandoned buildings. It was back to basics, no pre-sets, no auto-focus; everything back to manual.
What photograph left a lasting impression on you and why?
The piercing stare of the Afghan girl made by Steve McCurry in 1984 for the simple reason that it was the first picture that came to mind when I had to answer this question.
What jobs have you done other than being a photographer?
I don't consider myself a writer and publisher but I did write and self-published two books about Bull Terriers, currently working on two other books and ideas for at least two more.
What is your dream project?
The projects I'm working on now do come pretty close but I would love to be able to take Claire with me to a couple of far away locations in Southern Africa and North America.
Name 5 photographers who have inspired you
Sally Ann Thompson, William Wegman, Frans Lanting, more recently Marsel van Oosten and Mark Leslie.
What would you do without photography?
Pretty much the same but without a camera; traveling, exploring, enjoying life.
How do you know when a body of work is finished?
My work is never finished, as new ideas are constantly streaming through my brain. It's difficult for me to decide that a certain project is finished if it's up to me I would keep trying to improve things and add new photographs. So sometimes I have to rely on others to tell me it's good enough as it is.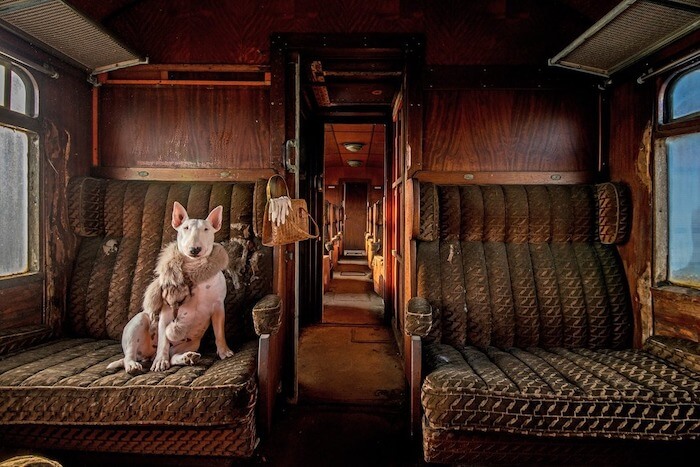 Is there one photograph of yours that you are very proud of? Why?
That has to be a photograph called "The Orient Express". It's a photograph of Claire in an abandoned train. The photo was selected as one of the finalists in the Smithsonian Photo Contest 2015 and won the Readers Choice Award.
What is your most important gadget? Is there something you can't live without in your studio?
Can't do without my remote control, with the help of my remote I can move around and let Claire look at the exact point I want her to look at. Not sure if you call photo props gadgets as well, I do use photo props a lot. Always buy them at thrift stores, just walking around in these stores always gives me loads of new ideas.
How did you start taking pictures? Why do you take pictures?
My father was and still is a keen photographer, he gave me my first camera when I was about four years old. My subjects were the same as they are now; animals and nature. I want to capture what my eyes see, always look around with the photographers eye. I'm fascinated with how mother nature is taking back what once belonged to her, how she's transforming a location 'back to nature'. As I want to stand out from the crowd, creating something unique, I came up with the idea to use my Bull Terrier as a model at these abandoned locations.
What was your first camera?
An Agfa Silette produced in 1959, so the camera was about 12 years old when I first started using it.
What camera do you use now and why?
Nikon D800, when I started to work as a photographer I made the choice to buy a Nikon. I worked with a conventional DSLR camera, switched to digital about 12 years ago. Never changed brand, why not? Never had any problems with any of my Nikon cameras so why to change. Love my D800; 36.3MP so can easily handle enlargements over 150 cm wide. Whereas I loved the D300s with its 8 fps for my regular dog photography. There's no need for this speed in my present work, so the D800's 4 fps is more than enough.
What role does the photographer have in society?
Depending on the type of the photographer, reporters are documenting the history and certainly have a role to inform the world about important events. Nature/Wildlife photographers can educate people while others photograph to create art. I see myself as a sort of entertainer, my goal is to put a smile on people's face.