What is your background?
I started with commercial and portrait photography in my early years.
What kind of photography do you most identify with?
Wildlife, Landscape and Travel photography
Explain your style in 100 words
See nature through my eyes, combined with my emotions of this situation, make this moment unique. Let images breath, let them tell a story, let them show emotions
How did your style change over time?
Finding the path of my personal photographic style started a long time ago, since then it did not stop evolving. With every photo session, with every trip, my style evolves as I do. Constantly growing/evolving is one of my goals in photography. I do not want to repeat/create similar images over and over again. "Variety's the very spice of life, that gives it all its flavor."
What photograph left a lasting impression on you and why?
Last year I found a Polar bear strolling in front of the colossal Nordenskiöld Glacier ice wall in Svalbard. The Polar Bear strolling on a small rocky island in search for food. The short time I had with this Polar Bear strolling the island evoked in me lots of emotions, overwhelmed from sadness to happiness.
Sadness; how we homo sapiens destroy nature for our greediness, climate change. We destroy the natural habitat of polar bears and many more animals around the globe, for one thing, > our greediness!
Happiness; I was on an assignment stationed at a hut at the Nordenskiöld Glacier to take travel images, which included landscape and of course wildlife images. I was so lucky to find a polar bear in this area and not being on an expedition boat sailing the Arctic. I did not expect to see a polar bear in this region. One morning, I was looking at the glacier when this wonderful polar bear entered my view. Of course, I was running outside the hut on the dot. I grabbed my gear on the way, setting up everything as fast as I could beside the hut. Jumping from camera to camera to capture the Polar Bear in several situations. The ~ 800mm lens placed on my thick Daune jacket as a bean bag, the smaller zoom lens with the camera on my tripod. There we were, my guide watching my back with a rifle, in case there would be another polar bear strolling around the hut, me freezing and following every step this polar bear did on the island. The time this polar bear gave me to capture him against the massive glacier wall I will never forget. Lots of emotions were running through my body, especially when he was looking into my eyes through my big lens from time to time. I realized that the polar bear was also watching me. It was extraordinary
When did you discover your passion for photography?
Photography came into my life in my teenage years. I got a camera from my parents. My dad took me on regular trips into the forest looking for wildlife. My camera became my companion on these hikes and the passion for nature photography grew in me.
Describe a real-life situation that inspired you?
Seeing a polar bear sleeping on a cliff, high above the arctic sea under the full moon. This was like winning the lotto. It was hard to capture this moment; I had to stand up in the zodiac with quite rough sea. What inspired me with this situation: always expect the unexpected when being out in the field, always try hard to accomplish what you want. Do not give up!
What's your most embarrassing moment related to photography?
Taking 2-3 images of the Aurora, while still having the lens hood on the lens! ☺
What jobs have you done other than being a photographer?
Commercial and Portrait photographer
What is your dream project?
An assignment to the Antarctica for photography
Name 5 photographers who have inspired you
Nick Brand and Peter Delaney. I do look around, but none gives me much inspiration. I just do not want to copy! I like to do my very own style. Seems that it is not too bad ☺
What would you do without photography?
A life without photography would be an empty life for me. The taste of nature, muse, inspiration and much more I would miss badly.
How do you know when a body of work is finished?
When I have captured the images my clients and I are VERY satisfied with.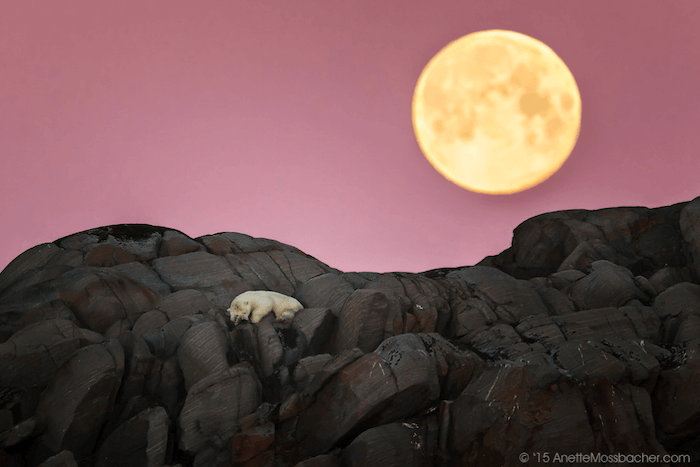 Polar Bear Under the Full Moon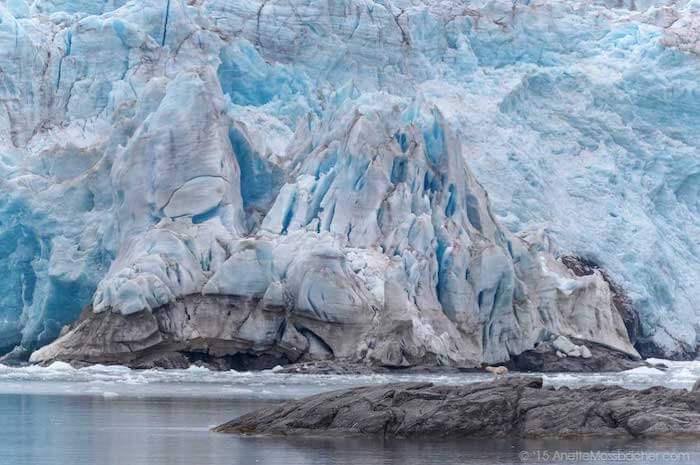 Polar Bear - Nordenskiold Glacier - Spitsbergen
Is there one photograph of yours that you are very proud of? Why?
I am very proud of all my photographs. Every single image has its own story behind! This question is asked so often. To name several images, the Polar Bear sleeping under the full moon. This was taken from a wobbly zodiac in the arctic sea. I had to stand up to get a better view, this was quite challenging to get the images sharp on the dot! The next image of the polar bear in front of the Nordenskiold Glacier in Svalbard. I was happy that I saw the polar bear in the distance, that I as well was able, even when freezing very much to spent with this animal 1 hour in freedom. The black and white Epupa Falls image. I had to climb up a mountain in total darkness to be there in time at sunrise. It was in the total wilderness of Namibia where animals roam mostly free! I had to watch my back for leopards while standing there on a cliff across these magnificent waterfalls. At the end, this image won the Price of the jury in the German nature photographer of the year 2015. There are many more images I am proud of, but that would be too long to write.
How did you start taking pictures? Why do you take pictures?
Learning photography opened a door for me to inner freedom and peace. Photography is for me a way to communicate.
What was your first camera?
Agfa Agfamatic pocket 2000
What camera do you use now and why?
Canon 1DX . Two cameras I use for their high performance out in the field. Both are able to perform in harsh conditions, hot or cold. So far they never have let me down.
By now I tested FujiFilm X-T1 in Greenland. This camera was a bliss. I certainly will get me the new follower model X-T2 from FujiFilm. This camera worked fantastic in Greenland.
What role does the photographer have in society?
Photography and photographers matter, more than before. Photographs are powerful and very important to document/witness things as they really are.
The demand for images in media in these days is huge.
You can contact Anette here